If you cannot read this newsletter, please visit www.nirvanashop.com to read it in your browser.


SHOP NOW -
FAQ -
HELP DESK -
EXPERTS -
SHITTER -
SHARE -
GROW GUIDE -
DATING -
KB
FREE GERMINATION KIT WITH WHOPPER!
High Nirvana Fans!

This weekend's Whopper is White Castle, our strangely underappreciated but actually really awesome White Widow/Ice hybrid. As one of our customers put it: this Castle is fit for a King (or Queen, of course)! From its Daddy, ICE, White Castle inherited crazy trichome levels that turn the plants completely white and sticky. From Mum, White Widow, it got its social, warm high and excellent yields. White Castle is an excellent choice for medical providers and patients because of its superb analgesic (painkilling) properties.
Customer review: It's teh chronic, the dankest diggity dank, the special shit. White Castle is the best pot i've ever had! It's perfectly suited to me: cerebral, thoughtful, pain relief without a narcotic feeling, upbeat/uplifting/mood-elevating buzz, doesn't make me sleepy or give me the munchies. It is great for joint and bone pain, and has a relaxing effect on tendonitis/cartiledgaenous/musculoskeletal/cramping-type disorders. All of the buds throw sparks (very cool in the dark) from all the trichomes. Yeah, trichome city. It also HIGHLY resinous. I can't use a screen for even one whole bowl before it clogs!
BUY WHITE CASTLE (10 regular seeds) NOW AND GET A FREE GERMINATION KIT!
WHY BUY NON-FEMINIZED SEEDS?
With feminized seeds flooding the market and taking the growers' world by storm, is there really any reason left to buy regular, non-feminized seeds? Our answer is a resounding yes. Professional breeders still know the secret of realising the full potential of regular cannabis seeds, and after reading this article, so will you!

To understand why regular seeds may be an interesting addition to your grow room, first you need to know what feminized seeds are. It seems obvious: feminized seeds are seeds that always grow into female plants, right? As you know, cannabis plants can produce either male or female flowers. All cannabis plants can be forced to grow male flowers, even plants from feminized seeds.

High levels of stress, such as light leaks, heat, cold and cutting damage will make the plant freak out and want to reproduce as quickly as possible. It makes sense: in the event of a zombie apocalypse, we'd all be at it like rabbits too! So stressed plants produce male flowers. But there are other ways to induce male flowers: certain chemicals and hormones will also work and are often used in the feminized cannabis seed business.

The pollen from male flowers is used to fertilize female plants. Depending on how experienced the breeder is and which precise methods are used, the resulting seeds will be feminized seeds, almost always producing female plants. Only grower errors can stress the feminized plants to hermie. Sounds good, and it is. Feminized seeds are a great option for beginners and professionals alike, and the choice is a matter of personal taste, just like some growers prefer to grow organically and others don't.

The flagging interest in non-feminized seeds is completely undeserved, though. Regular, naturally occurring seeds that have not been tampered with in any way are fantastic to grow! Novices will not have to worry about stress factors, making the first grow far less finicky. Even more experienced growers may be unable to prevent hermaphroditism: a light leak or nutrient deficiency can easily happen sometimes. Regular seeds produce reliable and stable plants. Of course, you will need to cull any male plants. But there are several easy ways to do that: just check our Knowledge Base!

Usually, over 50% of regular seeds will grow into female plants. Since regular seeds are ten to a pack vs. five to a pack on feminized seeds, this actually works out to a pretty good deal, even if you have to cull a few males! Getting 8 or 9/10 female plants is not that rare either - just read the reviews for our regular strains. And try these insider tricks for improving the odds even further: higher N(itrogen) and lower P(hosphorus) nutrient levels, lower temperatures, higher humidity, and more blue light will all increase your chances of getting a female plant. Stress of any kind increases the chances of males/hermies, so don't mess about with growroom conditions willy-nilly!
One final reason for going regular: having the option of growing stable male plants is excellent if you ever want to try your hand at (cross)breeding or if you don't like to clone female plants. Well, we certainly hope we've been able to convince you to give regular seeds a shot sometime. Remember, if you buy this weekend's Whopper you will get ten of our lovely
White Castle regular seeds
AND a free Germination Kit: an excellent opportunity for trying regular marijuana seeds!


So order some fresh and natural cannabis seeds now!!
SHARE YOUR PHOTOS, HAVE SOME POINTS!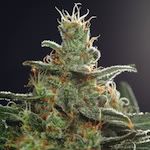 At Nirvana Cannabis Seeds, what you see is what you get: super frosty, top quality cannabis plants! This month's fantastic photos of Nirvana White Castle were snapped by Goodday. If you recognise your photo, get in touch with Mary (mary@nirvanashop.com) to receive 1000 Points in your Nirvana Shop account!
Upload pics of your Nirvana plants to Weedportal Share, and maybe next month it will be YOUR photo featured in the Newsletter! We like pics that are clearly labelled with strain type and other specs (lighting, grow method, no. of weeks, etc) and we love a good macro shot, so get up close and personal with those lovely sticky ladies and snap away! Haven't got anything ready in the grow room?

Then just order a Weekend Whopper and get regular White Castle with a FREE Germination Kit!!
FROM THE TEAM
We love to hear from you through
Facebook
or
Twitter
! But remember: the
support ticket system
is the place you should go with any questions or complaints.
Please do not e-mail Mary or ask Josh through social media!
Only our Help Desk staff is qualified to help you with order problems, growing questions and other information requests.
One last point of business: we're currently looking into improving our chatbot. Yes, Ecila is getting a makeover, or should we say, a brain transplant! It may take a while though, and in the meantime, the Cannabot may not be working properly. As always, your best bet is to contact the friendly folks at the
Help Desk
if you have any pressing concerns.
Peace and love,
Team Nirvana